Win a This is Reportage: Family T-Shirt!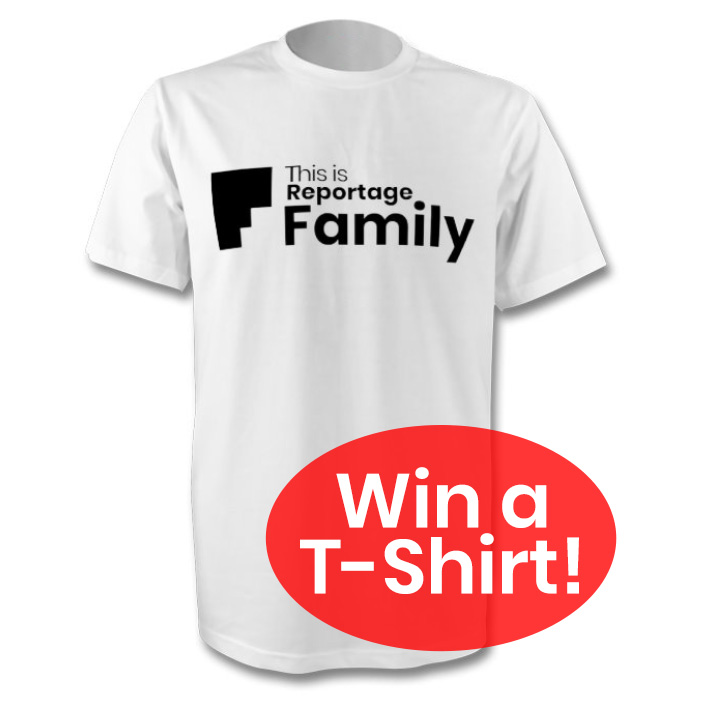 Would you like one of our brand-new This is Reportage: Family T-shirts? Well now's your chance to win one! Be the envy of all your friends and up your style-quota by a bazillion points with one of these (they're super-soft as well; bonus!).
How To Enter
Fittingly (pun intended) we're going to do a themed-photo contest, and the theme is HUMOUR. We could all need a bit more fun and humour in our lives at the moment, so, for your chance to win, simply:
Head over to Instagram and make sure you follow us.
Upload a documentary family photography image to your Instagram that fits the theme 'HUMOUR'. Remember, we are This is Reportage: Family, so the image should be a documentary capture – no poses; nothing staged. It could be anything that will make us smile/laugh – show us your funny images! It may be Dad fast asleep whilst the kids are causing havoc around him, a finger-in-nose-expedition, a pancake-on-the-ceiling accident…whatever fits the theme 'HUMOUR'.
Use the following three hashtags on your image: #tirftshirtcontest #tirfhumour #thisisreportagefamily
***Crucially, the photo must be a new upload; you can't just use the hashtags on an image that is already on your feed. Only images uploaded on or after 14:00 BST on 14th September 2020 will be eligible. Feel free to upload an image that you have already uploaded in the past – that's totally fine, and you will be eligible (you just can't use the hashtags on previous images on your feed if you want to be eligible to win).
***3 entries per instagram account only. For extra entries, you can also upload up to 3 images on a public Facebook account, if you'd like (using the same hashtags); so that's a total of 6 entries if you do that (3 on Insta and 3 on FB).
And that's it. The contest is open to members and non-members alike, and we'll be sharing various entries on our Instagram Stories during the contest, so keep an eye on our Stories. The contest deadline is 23:59 BST on 18th September 2020; we'll pick our winner and they will be notified, via Instagram, soon after that. Worldwide delivery is included. The contest is also in no way sponsored, endorsed or administered by, or associated with, Instagram.
Good luck!
****************************************
Ooh, and whilst you're here, remember that our current Awards deadline – Collection Two – is soon; submit by 23:59 BST on 23rd September 2020. Members receive 60 Reportage Family Award entries (for individual captures) and 18 Family Story Award entries (for a series of images of a single family) per year, all included in our low membership cost – as well as many other benefits. Find out more and join us.